Rugged Servers
Unitronix have over 30 years of experience in the supply of rugged servers to Australian civil and military programmes. We are bringing that expertise to the UK market with a range of rugged server solutions including 1U, 2U, 3U, Single and Dual Xeon, DR PSU, Front or Rear IO, high density, small form factor, fully sealed and customisable systems.
Made from components and systems sourced and built in the USA or Australia, we can demonstrate a trusted supply chain to support customers secure long term requirements.
Unitronix also have its own designed and built in Australia range of fully sealed 19 inch rack mount chassis and processing architectures for customers wanting extreme MTBF and high physical security to host their critical edge applications.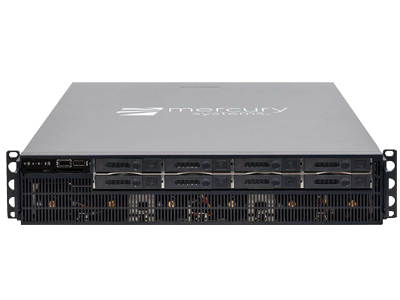 STANDARD DENSITY SERVERS
Featuring the latest Intel processors, expansion slots, multiple sizes and depths, rear or front high-speed I/O, security features, and various storage options, RES servers provide users maximum system expansion and configuration versatility to meet current and future system requirements. 1U – 3U
Tailored C4ISR Edge Processing
A part of Mercury's EnterpriseSeries, RES-XR6 rackmount servers package up to four 2nd Generation Intel® Xeon® Scalable processors and 6TB DDR4 ECC memory in resilient, reliability-enhanced, and lightweight form factors. Featuring expansion slots, multiple sizes and depths, rear or front high-speed I/O, security features, and various storage options, users can tailor scalable solutions to meet current and future system requirements.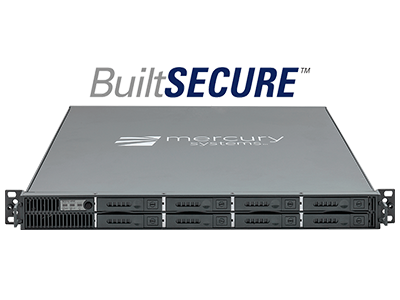 TRUSTED & SECURE SERVERS
A part of the EnterpriseSeries™ product line, Mercury's RES Trust servers employ U.S. designed and manufactured motherboards with embedded Intel® processors and composable BuiltSECURE™ framework to deliver trusted performance for the most security-imperative mission critical applications.
RES Trust servers can be configured with a variety of nation-state-level security features. System security features enable customer Foreign Military Sales (FMS) or Direct Commercial Sales (DCS) programme success.
RES AI GPU SERVERS
Supercomputing for the Edge: Leveraging the latest processing, co-processing and accelerator technologies, RES AI brings High performance computing (HPC) to defence and IOT applications at the Edge.
Engineered to Tackle Challenging Workloads Anywhere:
Designed and proven to handle massive Artificial Intelligence (AI), virtualisation, big data analytics, Signal Intelligence (SIGINT), cryptography, image processing, Electronic Warfare (EW) and sensor fusion workloads anywhere, RES AI servers integrate the latest NVIDIA® Tesla® GPUs and Intel® Xeon® Scalable processors in environmentally resilient, rugged form-factors. Multiple expansion slots support specialised capabilities while shallow, densely packed chassis maximise performance in a small footprint.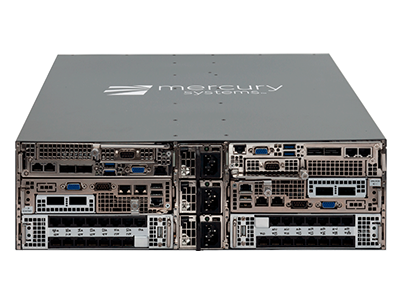 MODULAR BLADE SERVERS
Scalable High-Density Computing for Evolving Workloads
Sophisticated edge applications require the latest compute, storage and networking technologies to minimise bottlenecks. Mercury's blade servers are purpose-built to keep pace with evolving sophisticated workloads and deliver cost savings. With numerous chassis options and multiple "plug-and-pull" blades that feature the latest data centre-calibre technologies, our rugged servers can be fine-tuned to your edge application – wherever it may be.
Achieve optimum performance and precise functionality for a multitude of applications by mixing over six "plug and play" compute, storage, networking, PCIe expansion, management and GPGPU modules.
Eliminate Rip and Replace:
RES HD chassis accommodate previous, current, and future generations of RES HD modules. Multiple chassis options include the 10" wide HDslim and 17″ wide Themis RES-HD 2U/3U chassis that integrate the latest Intel Xeon Scalable processors, as well as the 10" deep HDversa that holds up to twelve low power Intel Xeon D processors.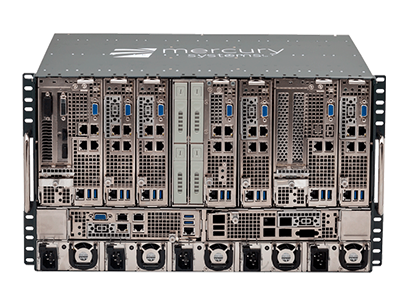 HYPERCONVERGED SOLUTIONS
All-Flash Storage: Hyper-Unity® seamlessly integrates multiple RES form-factors, Ethernet switches and software-defined storage (SDS)/ hyper-converged infrastructure (HCI) software to deliver all-flash performance for virtualised applications at less than half the cost of traditional storage. It brings the advantages of a Public Cloud to operations on the tactical edge, optimising efficiency through dynamically provisioned resources, streamlining IT management and providing a robust, scalable and turn-key infrastructure that can be immediately deployed.
Modular Scalability: Hyper-Unity allows you to scale both capacity and performance linearly by providing the flexibility to scale up by adding more nodes or scale up by adding more disks to each server node. Instead of buying large and expensive storage arrays with limited performance, the Hyper-Unity Infrastructure enables enterprises to scale out in small, modular units, allowing them to balance their compute and storage resources while growing. It also supports popular hypervisors, preserving prior investments in tools, time and training.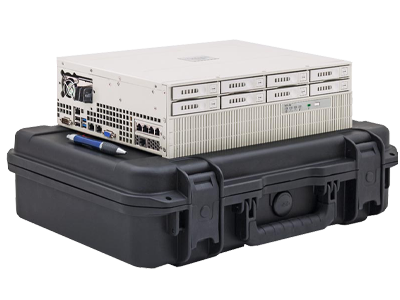 SMALL FORM FACTOR SERVERS
Designed for mobility and operation in the most extreme environments, our small form-factor servers pack the latest Xeon-class processors, multiple hot-swappable storage drives, and various expansion slots in a light-weight compact chassis to enable an array of space-constrained mission-critical applications.
Designed to accelerate space-constrained mission-critical applications at the edge, the RES Edge XR5 densely packs one 1500 Series Intel® Xeon-D® processor, 128GB memory, eight swappable drives and enhanced reliability features in a 9" transportable chassis.
Datacentre in a Briefcase
A tactical cloud that can host sensitive missions in theatre and operate on almost any power source, the RESmini XR6 packages one Intel® Xeon® scalable processor socket with up to 28 cores in a 15lb subrack form-factor. An optional FAA compliant UPS power case provides over 100min of autonomous operation, while expansion slots and multiple I/O offer operators maximum configuration versatility for current and future operations.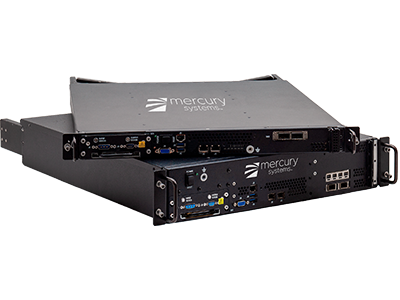 FANLESS AIRBORNE SERVERS
High-performance servers for airborne environments: Bringing enterprise-class, datacentre processing to defence airborne platforms to enable surveillance, signal intelligence, sensor fusion, audio/video processing and other compute-intensive applications.
Completely fanless design to improve reliability: Fans and other moving components increase chances of mechanical failure and lower Mean Time Between Failure (MTBF). 
Designed to fit in onboard plenum enclosures, RES Aero servers provide high-performance computing without added fans. A fan-less design produces less noise and enables operation at high altitudes, even during loss of cabin pressure, a critical requirement for many sophisticated military weapons systems.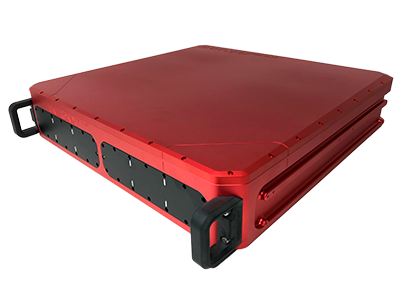 REN - RUGGED EMBEDDED NODE
19″ Rack Mount 17″ & 14″ Depth
Developed by Unitronix for customers who want new ways to process data at the edge, in a fully-sealed conduction cooled case providing a capability for deployment into onerous environments.
REN 19 is effectively a large heatsink for up to 4 high-powered embedded server units (ESUs) that allows for processing in extremely rugged and harsh environments where traditional air cooled equipment wont do the job.
These are items of utility for engineers who would normally build these systems themselves, but due to a lack of project time or low quantity requirement, an off-the-shelf solution is a more viable option.